We visited Folly Farm during our camping trip to Haven Kiln Park, near Tenby Wales. From it's name you'd think it was "just another"* children's farm, but it's much more than this. In fact they call it an Adventure Park and Zoo Theme Park.
* [Not that there is anything wrong with children's farms, which can be educational and great fun too]
Folly farm has farm animals, zoo animals (including Wales' only giraffes), a vintage fair, shows, indoor and outdoor play areas diggers and much more. It also includes a number of adventure play areas both indoors and outdoors.
Admission price is quite reasonable, although there are additional charges for many of the rides and activities. The cost of the additional activities are quite reasonable. They appear to have the balance about right between keeping gate prices reasonable and charging reasonable prices for the rides. If you don't go on any of the rides the entrance fee is comparable with children's farms or zoos. The rides are mostly 50p or £1 per person which means it isn't too expensive if you go on a few rides.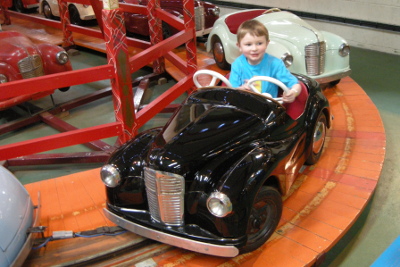 I was not aware of quite how much was at Folly Farm until we arrived. I was very impressed by the vintage fair in particular. The fair is indoors and most of the rides are in excellent condition considering their age. The rides are still great fun with perhaps some nostalgia (not that I'm as old as many of the rides, but they did have some similar type rides at the fairs of my childhood). The rides are mainly indoors which helps to protect them and also makes this a great place to visit even in the worst of the British summers.
As well as the rides there is a theatre inside the building where we watched a magic show. The magic show was very impressive, better than you'd normally expect from a typical day out / theme park.
We ate at restaurant which was pretty good and reasonably priced.
There is lots to do at Folly Farm and as such we didn't get around to going on the Tractor Ride before the last ride, but we did get to do most of the things we wanted.
One good thing that is particularly child-friendly is that they issue a wrist band for all children in case they get lost from their parents.
Folly farm is so much more than a farm and well worth visiting.