I have been to Weston-super-mare many times in the past. Weston is a seaside resort centred around the pier, so when the pier was engulfed by a major fire during 2008 I did wonder what the future would hold. Fortunately unlike some of the derelict piers around the country the pier at Weston-super-mare has been redeveloped and was re-opened during October 2010. We visited the pier during spring 2011 to see how its improved.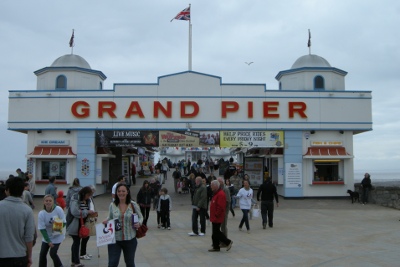 We only spent a few hours in Weston-super-mare on our way back from holiday at John Fowler's in Ilfracombe. Weston-super-mare is in Somerset and as it's only a short drive from the M5 was a fairly convenient way to break up the journey. Finding somewhere to park was the first challenge, but after we were unsuccessful finding any spaces on the sea front we went to the shopping centre car park, which is as close or closer than many of the other parking spaces anyway.
We were pleased to find that the pier was looking good after the refurbishment work. We took the land-train up to the main amusement area. This is all indoors so a great place to go if the weather is not too good, and features an excellent selection of amusements and small rides as well as a not so small electric Go Kart track on the first floor.
There are a number of larger rides, some of which are "self-service" coin-operated rides including the children's rocket Galaxy Rider ride (named Galaxy Explorer by the manufacturer), and some of which had an attendant including a robo-coaster (robot arm ride) and Sidewinder which is like a smaller version of Maelstrom at Drayton Manor - (click to see photo of Maelstrom) .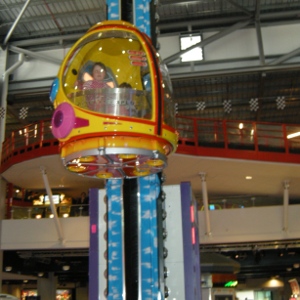 As the rides and amusements are all new none of them looked out of date and there were few with any problems. As with all amusement arcades it's easy to spend more money than you think and perhaps a little more so with so many modern rides.
The pier also has a 4D cinema, mirror maze and a laser maze along with other attractions.
There are several places to eat including takeaway, cafe, bar and restaurant. We didn't try the food on the pier (except for an ice cream), although perhaps we should, as we were not impressed by the eat-in fish and chip shop elsewhere in Weston that we did go to.
Away from the pier there are some attractions on the beach (tide goes a long way out), crazy golf and a few small amusement arcades.
Summary
The main attraction to Weston-super-mare is still the pier. The major investment since the fire has paid off in providing an excellent indoor attraction that will appeal to kids young and old. It's well worth a visit, but you may want to may want to budget in advance and make sure you keep track of how much the day is costing.
One of the best most modern themed piers in the UK.