I'd heard about Wookey Hole from others that have visited, but this was our first visit. We used it as a way to break up our journey to our holiday at Ilfracombe Holiday Park (John Fowler) in Devon. We had a great time, but you may want to check what's on depending upon what day you travel, as the attractions differ depending upon whether it is a weekend or school holiday.
We visited on a Monday at the start of the Easter school holidays.
After we arrived we joined the next available cave tour. Our 3 year old son was a bit unsure of the dark caves at first, and someone else's child started to cry, but both settled down after they'd got used to being in the caves.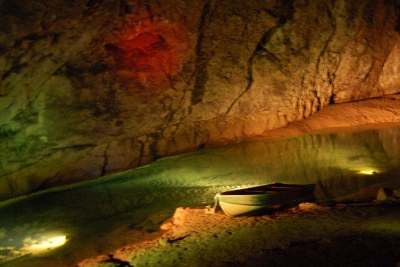 The caves feature some light shows and have short periods of almost complete darkness, but are generally fairly well lit. The guide provided a talk covering various aspects of the caves, from how they were created, who lived in them, The Witch of Wokey Hole; and up to modern day use for cave diving, filming (including Harry Potter) and for cave matured cheese.
There were no toilets between the entrance and after the cave tour, but fortunately we had a potette (portable potty) for our son who is potty training. The caves were reasonably easy to walk through with stairs and metal walkways at a few points. There were a few points with low roofs, but they were obvious and easy enough to duck under without needing to wear hard hats or anything special. It's obviously not possible to take pushchairs through the caves and it would be difficult to get around the buildings with a pushchair, but apart from the walk up to and from the caves most of the attractions are in a fairly small area, without lots of walking needed.
After the cave tour we went through the dinosaur park and circus museum, before having lunch at the Big Top Restaurant. The food at the restaurant was fairly good and reasonably priced.
Inside the buildings there was a cave diving exhibition (we skipped that), a paper making session in the paper mill museum, child play zone and Old Penny Arcade which collection of old fashioned amusement arcades in a pier setting.
Outside there was a pirate themed crazy golf (additional charge) and a pen with some sheep and lambs. All these attractions were pretty good except for the lambs which just seamed to be a shed with the animals in to add another attraction to the list.
Most of the attractions are indoors so it's a good place to visit whatever the weather.
The children play zone was reasonable, but quite small, but there was a very large play area under construction which I expect will be finished in time for the summer season. The mirror maze was also pretty good, very strange when you first go in, but great fun. The only thing is that it's a good idea to keep young kids close, as when our son wondered away, just a short distance, then it was a bit strange when I kept walking in the wrong direction chasing his reflection in a mirror. I'd still recommend it though.
With all the above then this is enough for a good day out, but for me the highlight was the Magic Circus. The show featured a clown, the Wookey Witch and children from the circus school based at Wookey Hole. The show was great and the children were brilliant. It was a really good show that the whole family could enjoy.
Summary
There are lots of different activities at Wookey Hole. A concern with some places is that they put a lot of activities on to make a good sounding line-up, but not provide the quality to make a good day out. I'm pleased to say that (with a couple of small exceptions) that is not the case. At Wookey Hole the majority of the activities are excellent and well worth making a day out.
If looking to visit then I definitely recommend going on a day when the Circus is on as for me and my family that is the one attraction that stood out as the best part of the day.