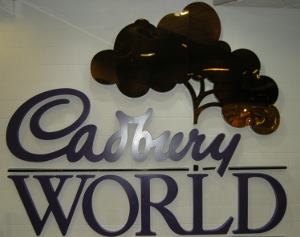 Ever since Charlie Bucket first found his golden ticket children have dreamed about visiting the chocolate factory. With Cadbury World in Bournville this is possible. Unfortunately there is no free lifetime supply of chocolate at the end, but there is the world's biggest Cadbury shop instead.
Cadbury World is at the chocolate factory in the village of Bournville south of Birmingham. The attraction includes a tour of a packing plant within the factory as well as special visitor attractions.
I've visited several times before, but it's been a while since our last visit. The one thing about some of our previous visits is that there was a very long queue; this time we visited on a school day to avoid the queues (it was a teacher training day).
The website states "It is essential that you book your tickets before coming to Cadbury World to guarantee entry". Whenever I've visited it has always been possible to buy tickets on the day, but if visiting on a busy day (school holidays and weekends) then I suggest if possible to purchase tickets in advance. On this occasion I used Tesco Days Out vouchers so was unable to book online. We arrived early (about 30 minutes after opening) and was able to buy tickets for immediate entry.
The attraction provides historical insight as well as explanations about modern manufacturing methods and marketing techniques. This is done using a variety of different methods to make this interesting including wax dummies and 3D models / videos and a video presentation with a unique interactive experience. There are also numerous hands-on exhibits throughout the visit from computer terminals to full body interaction and of course some opportunities to sample some of the Cadbury's chocolate.
The visit includes an opportunity to walk through a packaging plant. I say walk as this is the only part of Cadbury World that is inaccessible by pushchair or wheelchair and it involves walking up stairs from one floor to the next. The packaging plant is a working part of the factory and so does not fit in around visitors. So it is not always operating. It's the same with the robots that stack the boxes onto pallets (in the Bournville Experience), but both are worth seeing if possible.
Young children will enjoy the Chuckles Chocolate Bean ride "Cadabra" where you get to ride a car around the magical cocoa bean world (see example photo below). On this occasion we only had to wait for a few minutes for the Cadabra ride, but in the past we have had to wait for up to 40 minutes during a particularly busy day.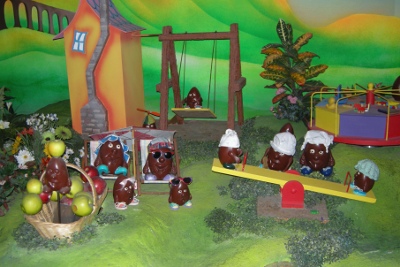 Most of the Cadbury World site is the same year on year, but some parts do get dropped in favour of new attractions. The most recent is the new advertising avenue (see the chocolate DJ picture below). Another fairly recent feature (couple of years old I believe) is the Purple Planet interactive zone. There are some good things in the Purple Planet Zone including a chance to see yourself as though made out of chocolate and a jumping chocolate splat game. Some of these activities had quite a wait depending upon how long other visitors spend on each game.
There is also an opportunity to design and taste your own chocolate flavour and a large outdoor play area, as well as history of Bournville a village originally created for the workers at the Cadbury factory. Cadbury World is an indoor attraction with only a short distance between the two main parts of the site and the playground that's outside, so it's particularly good for a wet day.
The cost of visiting Cadbury World is quite expensive, although offset a little by the free chocolates (3 different bars each) as you go around the site. When you consider what is included at other day out attractions you can get better value for money elsewhere.
Cadbury World is worth a visit if you like chocolate. It's educational as well as good fun, particularly for younger children (I expect children aged 3 to 10 would enjoy it most). I suggest booking in advance if possible (or arriving early if you want to visit the same day) and it's worth visiting early in the day anyway to avoid queues.