We visited the Gulliver Farm and Dinosaur Park whilst camping at Gulliver's campsite near Milton Keynes. We had already visited the Gulliver's Land Theme Park the day before and this was our last day. We wanted to drive back at a reasonable time so was just going to the dinosaur and farm park until early afternoon which worked out about right.
The first thing was that we arrived before the park opened. We had expected the opening time to be the same as the main park, but on that day is was 30 minutes later. We only had to wait for about 10 minutes, but you may want to check the opening time which varies depending upon the day / season.
The park is split into two different zones, the dinosaur park and the farm park, although you can walk freely between the two. The first area is the dinosaur park. This area is probably better for older children. It is mostly static dinosaur models with outdoor children's play areas, an indoor education centre and some activity areas. There is a rotating viewing tower which is good and a dinosaur boat ride with commentary. The boat ride was having it's engine changed during the morning, but we were still able to have a ride in the afternoon.
The Dinosaur and Farm Park combines a fun place to visit with a definite educational benefit which is good.
There is a hands on volcano and slime activity that we went along to. The volcano part started with labelling the parts of a volcano (only the older children could do this) and then an attempt at creating a flowing volcano, which didn't work particularly well (I guess that can happen sometimes). The kids then made some slime that they could take home. Whilst the kids enjoyed mixing up the slime this wasn't particularly well explained and wasn't really the educational activity it could have been.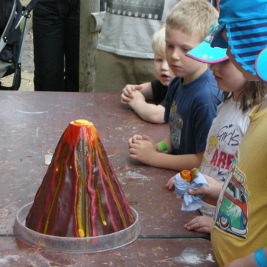 The farm park includes some crop areas as well as the live animals pens. You can buy animal feed for the goats and our children had fun feeding them. There are also some rides (tractor funfair ride and ride on tractors) and a number of activities. One of the activities was to find the carrots, but they hadn't been topped up so it was an impossible task, but the other things were good. The tractor ride was very good as the children could pretend to drive the tractors. There were no queues for this and there was also a self-propelled train ride.
The Gulliver Farm and Dinosaur Park is worth visiting and has a good educational benefit. There isn't as much to do as the Theme park and 3 to 4 hours is enough to do most of the activities with time for lunch as well. The visit was a good way to end our camping trip before setting off home.