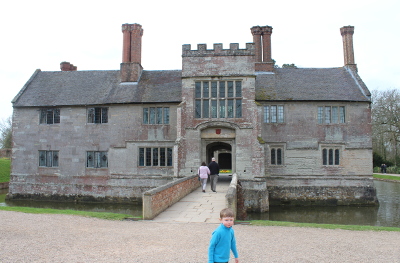 We visited Baddesley Clinton during the National Trust open day. I left it up to my children to choose out of a few different properties and they were the ones that decided on Baddesley Clinton. One of the reasons for them choosing Baddesley Clinton was because of the house trail listed on the website, unfortunately when we arrived and asked for the trail they said that they didn't do one anymore, but instead they did have a find the paintbrush in some of the rooms. This wasn't as good as a proper trail would have been as we didn't know whether we missed any paintbrushes until the end (and we had).
Despite the lack of trail the visit was quite good. Access to the house was based on a a timed ticket which helped to avoid the house being overcrowded. We had some time to explore the grounds prior to going into the house.
The house contains a number of priest holes from the Elizabethan times. This made the visit more interesting.
We had an interesting day out, although perhaps not quite so good for the children as we originally hoped.