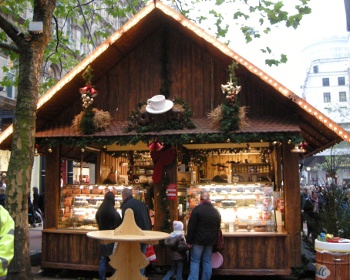 It's that time of year again. The year has flown by and Christmas shopping is in full swing.
This year I'm hoping to take in a couple of markets around Europe, but my first first visit to a European market was to the Frankfurt Market in Birmingham. We went on a Saturday (Family Day) and once again you could hardly move for the crowds of people trying to go in opposite direction. We didn't buy much but it was worth going for the Christmas atmosphere and the food and drink on offer.
This is based on dates for 2010 - see: Days Out Diary Christmas page for an updated list of dates for Christmas Markets.
Here's a round up of some of the other markets in the local area:
Frankfurt Christmas Market in Birmingham
Open daily until 23rd December.
Also see the different food and craft stalls between the Frankfurt Market and the ICC.
Frankfurt Christmas Market (Birmingham)
Unfortunately there is no outdoor ice rink or Birmingham Eye (Big Wheel) this year.
Stratford Christmas Market
Christmas Market on Thursday November 25th and December 2nd, 9th and 16th.
Christmas in Stratford website
Victorian Craft fair at Forge Mill Needle Museum in Redditch
Craft fair on 5th December
Events at Forge Mill Needle Museum
Worcester Christmas Fair
Thursday 2nd - Sunday 5th December.
Royal Leamington Spa Yuletide Fayre
Christmas markets on Sundays from 28 November to Christmas.
Warwick Victorian Evening
Thursday 25 November
Related posts