I've been on holiday the last week, so here's a belated review of the show. Details of the computer graphics will need to wait until I get some more time, but in the meantime here's a brief summary of the show.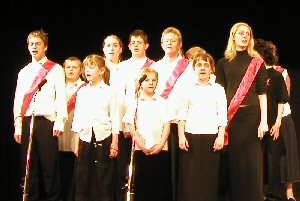 The ninth Warwickshire St. John Ambulance show was held on the 15th and 16th of April. Each of the three shows were performed to large audiences at the Stratford-on-Avon Civic Hall. Each performance selling about 100 tickets, with about 130 for the final show.
The show included highlights from popular musicals, including impressive costumes used in The Lion King, acting from Blood Brothers, and the amazing singing voices in Les Miserables. The show also featured some classic comedy sketches and a new comedy and dance display from The Unholy Order of Warwickshire Sisters. Finally no St. John show was complete without the youngest members, the Badgers, in their own interpretation of Snow White and the Seven Dwarfs and the children's favourite Tigger.