During the second world war Bletchley Park was home to the Government Code and Cypher School and played a critical role deciphering encrypted messages. I first visited a several years ago before it was opened to the public, it seamed a shame then that such an important part of British history wasn't more accessible.
Since then some of the site has been turned into a museum with work under-way to preserve more of the historical buildings.
The site is a bit unusual in that different buildings are used by other companies and organisations. The main museum is managed by the Bletchley Park trust which includes the mansion house and access to some of the huts that were used in the code breaking. Another museum on the site is The National Museum of Computing, which houses the rebuilt of Colossus, the world's first electronic computer which was used to help decipher the code used between Hitler and his generals. The National Museum of Computing also has many other exhibits which are not directly related to the work at Bletchley Park.
Access and parking on the site is free, but then the two museums have their own entrance fee. The Bletchley Park museum is more expensive, but is valid for 12 months. The ticket for The National Museum of computing is much cheaper, but does not cover as much and is only valid for the one day. Both are worth visiting and we covered both on the same day, although I plan to return again using my annual ticket.
Bletchley Park Museum
The museum at Bletchley Park is suitable for all ages, with some trails and activities for children. The museum covers a variety of different topics based around codes and ciphers and life at Bletchley Park during the war. It's good to see such an important site being preserved for future generations to see and learn about what was done there.
I enjoyed Hut 11 which housed the Bombes. It had some lifesize models and some interactive exhibits. It was a little noisy for my children which is part of the effect showing what it used to be like.
There is a new visitor centre in Block C which did not open until after we had visited and more of the blocks are being developed.
** Update ** Several more blocks have opened since my earlier visit which include interactive exhibits. These are very good when there are not many visitors although the exhibits are not so easy when there are lots of visitors trying to watch or participate.
When we visited it was a nice sunny day and we ate a picnic on the lawn by the lake which was nice. There is also a restaurant in one of the old huts and a Costa coffee shop although neither appeared to cater very well for children.
National Museum of Computing
The National Museum of Computing provides a history of computers from a rebuild of Colossus the first ever electronic computer up to the recent
Raspberry Pi
.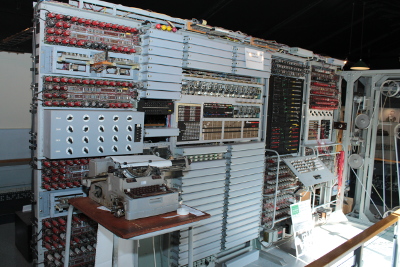 There are some static exhibits, but a large part of the museum is setup for hands on interacting with the computers. This includes some old home computers (many will be familiar to those that had a computer around the 1980s) a room full of BBC micros and some modern programming examples such as Scratch.
It would have been easy to spend a lot of time in the National Museum of Computing, but we were able to go around the museum in a couple of hours. ** Update ** on a subsequent visit we manage to spend more time with some of the volunteers giving demonstrations of programming to other visitors and my own son. This include the
Raspberry Pi powered Fuze
and some web based programming tools. If you have time to spare and there is a free volunteer then they can be a great help in showing what can be achieved. My son, although only 6 years old, has already done some Scratch programming. He sat down at a one of the computers with
Code.org Flappy Bird
. Whilst I was talking to the volunteer my son was able to get up to level 8, creating his own game on the computer. Unfortunately we had to leave to catch our train, but it goes to show what even fairly young children can do.
Previously it was easier to walk through from the Bletchley Park museum to the National Museum of Computing, which was great as Colossus really fits in well with a visit around the rest of the park. Unfortunately the Bletchley Park museum is now fenced off, it's only a few minutes walk between the two museums, but make sure you don't miss out on seeing this historic computer if visiting Bletchley Park.
Other attractions
Some of the other attractions around the site include the Leighton Buzzard Model Boat Club and a Toy Museum. Both of these were free of charge. My children particularly enjoyed the model boat club which included a boat play area.