We visited Ducky's Farm Park during our family holiday at Heysham, near Morecambe, but it is actually much closer to the Haven Lakeside caravan park at Flookburgh / Grange-Over-Sands; in fact it's on the same road as the Haven site.
Ducky's is more along the lines of a commercialised children's farm than the more traditional farm at Greenlands Farm Village. This is evident as soon as you walk into the farm with the indoor cafe and soft play area.
There is a good selection of both indoor and outdoor areas so there is still plenty to do whatever the weather. This includes a picnic bus where you can eat your own food.
Rather than a traditional tractor ride Ducky's has it's own style of barrel ride for an additional fee. These are plastic barrel carriages connected together as a train behind a quad tractor. The ride leaves the main farm area driving around a large adjacent field. We didn't realise at the time how long the ride was, which was excellent value, but was a bit long for our two year old who was in tears at the end. If you have young children that want to ride then you may want to consider having an adult ride in the barrel with them.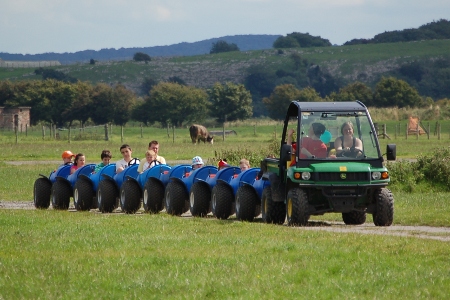 There is a children's worksheet (treasure trail), which was a bit difficult for our children (ie. I had to search out the answers). Again this was additional cost but did include a prize upon completion.
Most of the animals had quite large fenced areas that they could move around in. This was good, but did make the lamb feeding a bit difficult as the staff had to run around the fields trying to encourage the lambs to come for food. The feeding was different to the other farms I've visited in that everyone stood in a circle and the bottle was passed between several people for each lamb. This did however mean that all the children managed to have a short go despite the lambs being greatly outnumbered by the children.
We ate in the cafe and the food was pretty good and the cakes for dessert were even better.
We had a good day. The farm is very commercialised, but is good for young children.