We went on holiday to Center Parcs, Sherwood Forest during the last week before Christmas 2012. We have visited Center Parcs several times before, when our children have been babies or toddlers, but had not been for a few years and our children are now both school children.
This holiday was also longer than our previous visits. Normally holidays run Monday to Friday for a mid-week holiday, or Friday to Monday for a weekend holiday. Due to Christmas Eve being on the Monday the weekend had been shortened to Friday to Sunday. We combined this with the mid-week to make a holiday lasting from Monday to Sunday. As this was longer than our usual holidays we found the holiday to be more relaxing as we didn't need to try and do so much in a short period of time.
Before the Center Parcs holiday (pre-booking activities)
Prior to the holiday we received leaflets and emails for pre-booking activities during our holiday. From my previous experience I knew that it would be a good idea to pre-book any special activities. This is particularly important now as several of the events book up before the start of the holiday. We booked a visit to Santa, pony rides, mini-Jet Skis for our children, a table at the Hucks restaurant with première firework viewing area and a treasure trail and snowman hunts. In total that cost an extra £80 or so, but that did include a deposit towards our meal at the Hucks restaurant; there were no additional costs for restaurant reservations, just a deposit.
Arriving at Center Parcs (Pancake house and unloading the car)
We arrived at Center Parcs at around lunchtime. One thing that is evident is the Christmas theme. It starts when driving down the entrance road and there are decorations around the park, helping to create that Christmas feeling.
After parking in the car park we went to the Pancake House for lunch. This has become a bit of a tradition for us on our first day at Center Parcs. We did have a bit of a wait for a table during which my wife waited for the table whilst I took the children to play in the playground. This highlighted one of the issues about a location in the woods, which is that mobile phone reception is very poor, which some may consider a bonus! In some parts of the park you can get a full 3G signal, but in others you can't get a signal at all. We used Binatone PMR radios (walkie talkies) to keep in touch throughout the holiday as they were more reliable than mobile phones. The walkie talkies are also great for kids as they enjoy using them.
We had been given the keys to the accommodation when we arrived, but was not able to go into the villa until 3pm.
One of the good things about Center Parcs is that cars are not normally allowed to drive around the site. This makes it much safer for walking and cycling around the park. The exception is to allow unloading and loading cars at the start and end of the holidays. The barrier is raised shortly before you are allowed into the accommodation, but I find it less stressful to wait until half-an-hour after having access to the accommodation so that you don't have to fight through the big rush of cars trying to get out of the car park. The roads are very busy for an hour or so , but once the cars are unloaded and returned to the car parks then then park becomes peaceful again and it's time to switch to foot or cycle transport.
Accommodation - Comfort Plus Villa
We chose the comfort plus accommodation which is one above the cheapest. Some of the additional features are a Dishwasher and DVD player. We have stayed in some of the more expensive accommodation in the past which are very nice, but the comfort plus is still very good. The cheaper accommodation at Center Parcs is comparable with some of the most expensive accommodation at some other types of self-catering holiday parks.
In particular the accommodation was very clean and in good working order and they do appear to regular refurbish all the accommodation. The TV in our particular accommodation was a flat screen TV with HDMI in (good for connecting to a tablet for playing videos etc.). There is a patio area, although children should not be left unattended as it is only a short walk to nearby water. The heating in the villa was more than adequate, but if you wanted a more homely feel then there is a fireplace for burning the appropriate logs.
You can order some items to be delivered to the villa before you arrive, including a Christmas tree. Whilst a real tree would be good if spending Christmas day at the park, we went for a slightly cheaper option of buying an artificial tree complete with decorations and taking it with us.
Subtropical Swimming Paradise - Swimming pool
The swimming pool is one of the big attractions when visiting Center Parcs and we visited it several times during our holiday. There is a large pool with wave machine, a heated outdoor pool, outdoor rapids, flumes and boat flume ride. There are also two different children's pools and an activity pool with adjustable depth floor. There was quite a long queue for the boat slide generally about 15-20 minutes, but worth waiting, queues were much shorter for the rest of the rides.
The rapids are my favourite feature, it's not a lazy river that you find at some pools, but a fast flowing shallow river with several bends and drops. It's safe enough as it's so shallow, but only suitable for good swimmers. I took our 7 year old daughter down, who has been having swimming lessons for a few years now.
The changing village is in good condition and clean, and whilst it did get busy at certain times we didn't really have any many problems finding a cubical (a big improvement from when we first started going to Center Parcs). We did sometimes find it better to split up and take two standard cubicals instead of waiting for a family cubical, although there are a good number of both.
We also booked an additional swimming pool activity Mini Jet Skis for our children. These are inflatable jet skis with a lifeguard in the water alongside the children. There was a good ratio of children to the instructor (6:1) and the floor of the pool had been raised so that the water was not too deep. Both of our children really enjoyed it.
Visiting Santa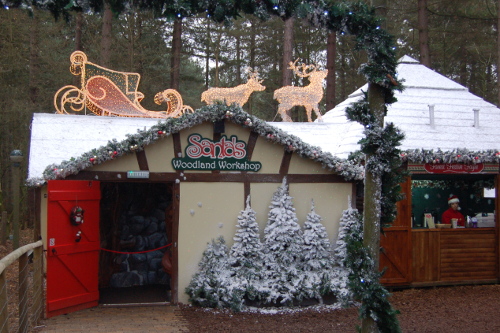 We had booked in advance to visit Santa in his woodland workshop. This was an area which included some reindeer, a giant Christmas tree and a Christmas shop. It's also the same place where you could take a carriage ride around Center Parcs or a pony ride to / from the lake.
The workshop was well laid out and decorated and we got plenty of time to spend with Father Christmas. Each child got a reasonable gift and we got a photo for each child. As we had two children we had one photo as a family and one with just the children and Father Christmas.
Pony ride
We booked a pony ride from Santa's workshop. It was a short ride, but the children enjoyed it and wasn't too expensive. This worked out cheaper than the carriage ride as we only had to pay for the children, whereas we would have had to pay for adults as well with the carriage ride.
Treasure trail / snowman hunt
One thing that our daughter enjoys is treasure trails. The one at Center Parcs is recommended for cycles as it covers most of the park. This is good for older children, but is too much for younger children and fortunately they also did a simpler snowman hunt outside, but close to the jardin des sports. Unfortunately the day we had booked for the treasure trail was the worst day weather wise and had a lot of heavy rain. The snowman hunt was changed into an indoor activity, which our son enjoyed, but the treasure trail continued as scheduled. We were well protected by waterproofs, and it wasn't too bad. The hardest part was trying to keep the map dry and we gave up with making the answers readable. We managed to be the second team back despite my daughter having only a 16" child's bike.
Firework display
There was a firework display on two of the nights we were on holiday (due to the two break booking). We only went to one of the displays though. We booked a table in the Hucks American diner restaurant with the "première viewing area" for the fireworks. This was no different in price to visiting the restaurant on any other day, but had to be booked well in advance. In return rather than having to stand for a long time to get a good view we ate in the restaurant and then was told by the staff when the rear doors were opened overlooking the lake. As a result we were able to get a clearer view that we would otherwise have had and Santa also came up close on the boat at the end of the display.
Summary
We had another great holiday at Center Parcs. It was good having a longer holiday than the usual short break as it meant that we could do as many activities, but have a more relaxing holiday. I'd certainly recommend a visit to Center Parcs at Christmas.