We travelled to Disneyland Paris with our baby son (just over 1 year old) and 3 year old daughter. Our flight was from Birmingham Airport. We drove to the airport and had booked our car park place in advance at www.bhx.co.uk. As we booked over 3 months before the holiday the parking was only £15 for the 5 days which was a fraction of the price of the normal parking. We were unable to check-in online as we had a child under 2, but check-in at the airport went smoothly. They did ask to see all the members of the party at drop-off (not sure if this was related to taking an infant), but everyone was waiting near the baggage drop-off. We had two pushchairs (strollers) with us but asked for this to go as cabin baggage, so we were able to take them to the gate. We had to carry the pushchairs down a flight of stairs towards the plane, but it made it easier than carrying the children around the airport.
We flew with Air France which departed from Terminal 1. Air France had recently moved from Terminal 2 and the terminal information from Thomas Cook was out-of-date. I knew about this in advance as I had travelled from Birmingham Airport recently, but the terminals are not too far apart anyway. We had breakfast at the airport at Weatherspoons which was very reasonably priced. There were no high-chairs out, but a member of staff was able to find one for us. Breakfast was good quality and came out quickly (about 10 minutes). So much better than my experience at other airports.
Surprisingly there was a baggage allowance for our baby son which was half the normal allowance. We did not actually need that though (even on the way back with everything we'd bought).
The flight was delayed slightly, but we were soon on board and flying towards France. Our baby son was not allocated a seat. He fidgeted a lot on my knee, but was not too bad for a short flight. It may have been more uncomfortable on a longer flight. We arrived at Charles de Gaule Airport and caught the VEA coach to Disneyland (included in the package). The coach took us to our hotel.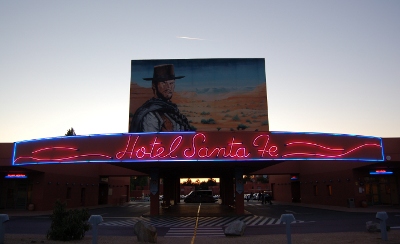 We stayed at the Hotel Santa Fe within Disneyland Paris. The hotel was basic but acceptable. The bedrooms were in small 3 story units separate from the main building. There are no lifts to the upper floors, so we had to carry the pushchairs up the stairs. There was no cot in the room, but shortly after phoning through one was provided. There is not much space in the room for the cot but we did manage to squeeze it between the two double beds. Surprisingly there were no coffee / drinks making facilities in the hotel room. We would normally have warmed up our baby's evening milk, but with no kettle we were unable to do so. We'd bought follow-on milk for the holiday as it keeps better, we normally just use normal milk at home. Fortunately he drank the milk at room temperature. This would be a much bigger inconvenience if we had a younger baby. The hotel room was clean and well maintained.
Breakfast was served in the main part of the hotel. It is a buffet style continental breakfast. There were queues to get into the restaurant and to the buffet counters. On the first day we were sent straight through as we had a baby with us and there was a very long queue, but had to join the queue on subsequent breakfasts. Going straight in was a plus as we didn't actually get our food at the end of the queue, instead finding a table and high-chair first. Breakfast was good, but there were very long queues for the self-service toasters and the milk was not replenished as quickly as they could be.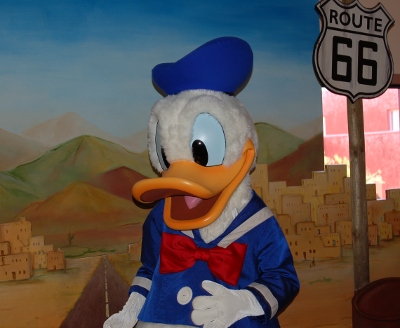 In the mornings there were character autograph and photo sessions which had shorter queues than in the park. There were two characters each day which alternated every half an hour during the morning.
There were frequent buses to the park, but due to having pushchairs we took the footpath that took about 15 minutes and was more convenient than having to unload and carry all the items. Items purchased in the stores around the parks could be delivered to the hotel shop for no extra charge which made it a little easier carrying bags back.
Staying in a Disneyland Resorts Hotel means that you can get an extra 2 hours early access to the Disneyland Park with some rides open. The normal opening times (10:00 to 19:00) were long enough for us with young children so we did not use this. It would be more useful for those with older children.
Rest of holiday review
Related
Another Holiday Review at Disneyland Paris at a Keycamp caravan/camping site